Attention: As this site is all about promoting coupons, the businesses participating can use your support during the pandemic. While making use of these deals, we simply ask that you show a little understanding and patience. For any questions & comments, please "Message Us" at the link found in the bottom footer.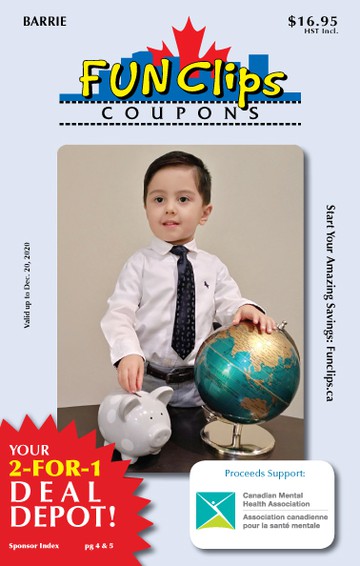 Barrie: Currently valid to Dec 20, 2020
Price: $15.00
All proceeds from coupon book sales support the Canadian Mental Health Association. Kindly share this webpage/link with your friends and family whom may also appreciate terrific savings in Barrie. Delivery is free via Canada Post! The Barrie book is bringing you 94 of the best deals you can find in town, including restaurant, auto repair, family attractions, retail, service, entertainment and sport offers. SCROLL BELOW TO VIEW ALL COUPON DEALS. All the Sponsors included in the book have 3 special and often exclusive deals; with the exception of Baskin Robbins, East Side Mario's and Domino's; all of whom have 6+ various offers.
Valid until Dec. 20, 2020
Total number of deals: 94