PUBLIC ANNOUNCEMENT: During these trying days of the Covid-19 pandemic, most small businesses and many presented on this site have and are enduring serious negative impact to their day-to-day operations. Please allow for patience with business owners and their staff when redeeming the Funclips deals. For questions & comments regarding this site, feel free to "Message Us" at the link found in the bottom footer.
About Us
Proceeds from all Funclips Coupon Book sales support important local charities. During 2019, those charities are the Canadian Mental Health Association (CMHA) in Barrie, Sports For Kids in Toronto and Mississauga and Community Living in Oakville.
Funclips was created for 3 important reasons:
Bring any size enterprise new customers.
Provide excellent introductory offers (coupons) for the person willing to try-out the products and services of different companies.
Make it rewarding, exciting & FUN to cash-in our amazing deals.
Our Roots
In 1984 Franz Cauchi, then a high school student living in London Ontario, to help out his family began working part-time for a local promotional company selling coupon booklets. At the time, these $10 packages were extremely popular among its supporters and advertised deals of well-known local restaurant, family-fun attractions, golf, dry cleaners and many other types of local businesses.
Starting in 1991 it was time for this entrepreneurial-minded youth to venture out with a partner and start: Dollars & Sense. The Dollars & Sense company achieved success in 7 different small markets throughout south-western Ontario until Franz made a departure from the company in 1997.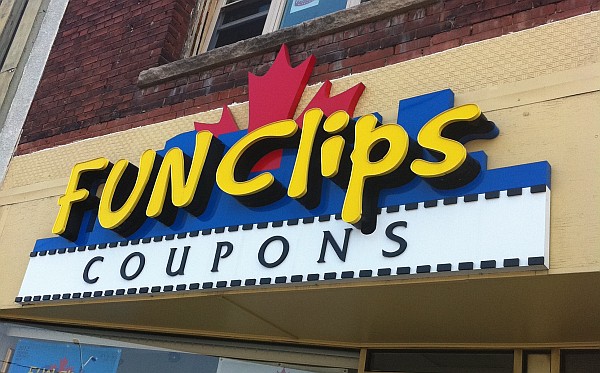 Federally incorporated in 1998 with Franz Cauchi leading as it's CEO, Funclips Corp was born and found it's new home in Toronto Ontario Canada.
Initially supporting the print industry, Funclips has brought pleasure to 100's of thousands of fans who have purchased the Funclips Coupon Book. Along the way, many various well-known charities have benefited from the awareness and funding generated by the sale of these niche promotional items.
Fast forward: the year is 2019 with Franz strong at his station, orchestrates his inner team of extraordinary people to work tirelessly at expanding Funclips' online presence. One of the significant priorities during these 21 years has been to meet head-on the challenges of compiling a collection of unique and special deals that supporters truly appreciate.
One of Funclips' top priorities is respecting the goals and strengths of it's partnering advertising sponsors. These deal sponsors, whether they be the local pizzeria, golf course, car wash, dry cleaner, cinema or family-attraction are on a mission to bring the very best incentives to it's customers: both regular and new.
Today, the Funclips main office is located in the heart of Corso Italia; 1691 Dufferin Street (@ St. Clair Ave), Toronto and has been proudly part of this inspiring community since 2001!