PUBLIC ANNOUNCEMENT: During these trying days of the Covid-19 pandemic, most small businesses and many presented on this site have and are enduring serious negative impact to their day-to-day operations. Please allow for patience with business owners and their staff when redeeming the Funclips deals. For questions & comments regarding this site, feel free to "Message Us" at the link found in the bottom footer.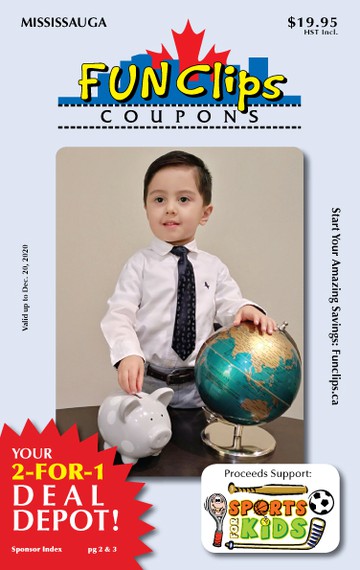 Mississauga: Currently valid to Dec 20, 2020
Price: $17.65
All proceeds from coupon book sales support the Sports For Kids. Kindly share this webpage/link with your friends and family whom may also appreciate terrific savings in Mississauga. Delivery is free via Canada Post! The Mississauga book is bringing you 60 of the best deals you can find in town, including restaurant, car wash, cinema, pet service, family-fun and sport offers. SCROLL BELOW TO VIEW ALL COUPON DEALS. All the Sponsors included in the book have 3 special and often exclusive deals; with the exception of Harvey's; whom have 6+ various offers.
Valid until Dec. 20, 2020
Total number of deals: 60